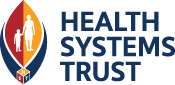 All Health Systems Trust vacancies are posted in this section as they become available. Click on the relevant listing for the full job description and application.

HST or its recruitment agencies do not charge a fee for applications or securing any post in our organisation. If you are requested to pay such a fee, kindly contact our HR department.

Please note, that in the interests of fairness we cannot engage in any discussions on recruitment or progress of applications. All jobs are listed on our website and all queries in this regard will only be answered by the HR department.