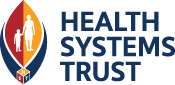 All Health Systems Trust vacancies are posted in this section as they become available. Click on the relevant listing for the full job description and application.

HST or its recruitment agencies do not charge a fee for applications or securing any post in our organisation. If you are requested to pay such a fee, kindly contact our HR department.

Please note, that in the interests of fairness we cannot engage in any discussions on recruitment or progress of applications. All jobs are listed on our website and all queries in this regard will only be answered by the HR department.
DATA SCIENTIST
KwaZulu-Natal | eThekwini Metropolitan Municipality | Durban | Contract
Health Systems Trust (HST) wishes to appoint an enthusiastic data professional who is passionate about collecting insights from data to improve our understanding of health system performance. The incumbent will primarily be working on data analytics for two of our publications, namely the District Health Barometer (DHB) and the South African Health Review (SAHR), as well as providing data analytics support on other projects within our Health Systems Research and Health Systems Strengthening Units. Based in our Westville Office in Durban, KwaZulu-Natal, this is a fixed-term contract position, renewable subject to availability of funding.